See on Scoop.it – MBSIB: The 5 Disciplines Of Fitness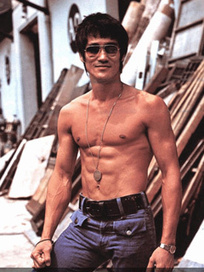 Excerpts:
"Absorb what is useful. Reject what is useless" Bruce Lee
Those legendary words were said by a true icon Bruce lee, to help one understand how to grow in life! In case you do not know, then let me tell you that besides being a philosophy student Bruce Leewas also the founder of Jeet Kune Do, responsible for making martial arts movies a craze all over the world, and possessed a body that has inspired many and is used even today as an example to explain the word R-I-P-P-E-D!
In fact Joe Weider had once described Lee's physique as the most defined body he had ever seen. Of course Bruce never trained solely for the purpose of looking good. His aim was to develop a functional body, and the appearance was a by product of his training. Bruce Lee often referred to training as the art of expressing the human body.
However Bruce was not always so strong and fit.An incident in Bruce Lee's life made him reconsider all his training methods and design methods that were more functional and effective. It all started when Lee was challenged to a fight by a guy called Wong Jack Man.
See on www.bodybuilding.com